Fire Emblem Warriors: Three Hopes - The Loop
Play Sound
Song title
"快晴"
Romaji: Kaisei
English: Clear Weather
Original Upload Date
Aug.30.2017
Singer
Hatsune Miku (album version)
IA
Producer(s)
orangestar (music, lyrics)
M.B (illust)
Waboku (movie)
Views
2,600,000+ (NN), 12,000,000+ (YT)
Links
Niconico Broadcast / YouTube Broadcast

Description

"Thank you very much."

A version featuring Hatsune Miku was featured on the album Re:Start which was released on the 30th. IA's version was released on the 31st.
Lyrics
| | | |
| --- | --- | --- |
| ! | The following translation was made by Releska, and may only be used in accordance with the restrictions stated on his blog. | ! |
Japanese
Romaji
English
梅雨が明けるまであとどれくらい?
tsuyu ga akeru made ato dore kurai?
"How much longer will the rainy season last?"
まだ紫陽花の光る朝 君の愚痴
mada ajisai no hikaru asa kimi no guchi
You grumbled, while the hydrangeas were still shining in the morning.
夏の足音はすぐそこまで
natsu no ashioto wa sugu soko made
Summer's footsteps have already come so far.
ねぇ迎えに行こって僕を急かす
nee mukae ni iko tte boku o sekasu
"Come on, let's go and meet it!" you press me on.


君に言われるがまま路地を抜け
kimi ni iwareru ga mama roji o nuke
Like you told me to, I exited the alleyway
あの時の坂を越え 虹を越え
ano toki no saka o koe niji o koe
and crossed over the hill from back then and the rainbow.
まだ誰もいない夏の空を
mada dare mo inai natsu no sora o
There still wasn't anyone in the summer sky.
全部全部二人占めにするんだ
zenbu zenbu futari shime ni surun da
Together, we'll claim it all for ourselves!


なんて君は笑ってたよな
nante kimi wa waratteta yo na
Or at least, that's what you laughed.
遠い夏の記憶
tooi natsu no kioku
It was a memory from a summer long past.
もう逢えなくても
mou aenakute mo
Though we can't see each other again
二度と帰れなくても
nido to kaerenakute mo
and though I can never go back,
それは美しい
sore wa utsukushii
it's so beautiful.
僕らだけの夏だったろう
bokura dake no natsu dattarou
It was our summer, ours alone.


さよならI love you
sayonara I love you
Farewell. I love you.
それで全て
sore de subete
With that,
終わってしまうような
owatte shimau you na
it looks like things have reached their end,
僕らじゃないだろう
bokura ja nai darou
but that's not us.
変わらないな
kawaranai na
We never change.
空も星も その泣き顔も
sora mo hoshi mo sono nakigao mo
The sky, the stars, and your crying face…
っていつか君と
tte itsuka kimi to
I hope that someday
また笑えますように
mata waraemasu you ni
I can laugh together with you again.


そりゃ色々あっただろう
sorya iroiro atta darou
A bunch of things happened
今もあるだろう
ima mo aru darou
and might still be happening.
でも笑いながら生きていく
demo warai nagara ikite iku
Still, let's live while smiling:
「それが人世だ」って
"sore ga jinsei da" tte
"That's life."


そんな単細胞になれたなら
sonna tansaibou ni nareta nara
If I were such a simple-minded person,
どれだけ良いかって
dore dake ii ka tte
then how good would that be?
過ぎ去っていく日々に意味はない
sugisatte iku hibi ni imi wa nai
There's no meaning to these days passing by.
なら明日の僕は僕じゃない
nara ashita no boku wa boku ja nai
If so, tomorrow's me isn't me.
そんな筈はないだろう
sonna hazu wa nai darou
There's no way.


泣いていたって空は晴れるよ
naite ita tte sora wa hareru yo
Though I've cried, the sky will clear.
君が濡らしたって滲まないほど
kimi ga nurashita tte nijimanai hodo
Though tears wet your face, they won't spread.
あがいていたって空は星を降らすから
agaite ita tte sora wa hoshi o furasu kara
Though I've struggled, the sky will send stars raining down,
まぁ、生きていくよ
maa, ikite iku yo
so, well… I'm gonna live.


I know this sky loves you
I know this sky loves you
I know this sky loves you.
いずれ全て
izure subete
Though everything will change
変わってしまったって
kawatte shimatta tte
sooner or later,
空は青いだろうよ
sora wa aoi darou yo
the sky is blue.
忘れないさ
wasurenai sa
I won't forget.
でもまた出逢えますように
demo mata deaemasu you ni
Still, so we can meet again,
って生きて征くよ
tte ikite yuku yo
I'll keep living.
君は笑っていて
kimi wa waratte ite
Smile.
English translation by Releska
Notable Derivatives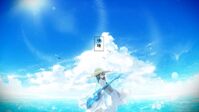 Mary's cover
Featuring: Mary
Producer(s): Gaoo (mix), Y_Y (illust)
NN / YT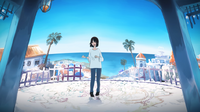 Megater Zero's cover
Featuring: Megater Zero
Producer(s): Megater Zero, Roman Nishino (mix)
YT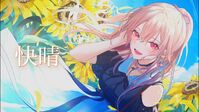 Furen E Lustario's cover
Featuring: Furen E Lustario
Producer(s): YouK (mix), magako (illust), Shamoji, Onimaru (video)
YT
Discography
This song was featured on the following albums:
External Links