Song title
"メルト"
English: Melt
Original Upload Date
Dec.7.2007
Singer
Hatsune Miku
Producer(s)
Ryo (music, lyrics)
huke (video)
Views
13,650,000+
Links
Niconico Broadcast / YouTube Broadcast(reprint)

Description

Melt is a song about a shy girl in love with a boy. One of Ryo's (Supercell) most popular songs, it achieved over 8 millions views on its original Nico Nico Douga upload.
Japanese
Romaji

Official

English
朝目が覚めて真っ先に思い浮かぶ君のこと。
Asa me ga samete massaki ni omoi ukabu kimi no koto.
When I woke up this morning, the first thing I thought of was you
思い切って前髪を切った「どうしたの?」って聞かれたくて。
Omoikitte maegami wo kitta "doushita no?" tte kikaretakute.
I made up my mind, and cut my bangs short, just so you'd ask me "Why?"


ピンクのスカートお花の髪飾りさして出かけるの
Pinku no sukaato ohana no kamikazari sashite dekakeru no
Pink skirt, flower pin in my hair
の今日の私はかわいいのよ!
kyou no watashi wa kawaii no yo!
I'm going out. I'm looking cute today!


メルト 溶けてしまいそう
Meruto! Tokete shimaisou!
Melt! I feel like I'm gonna melt away
好きだなんて絶対に言えない。。。
Suki da nante zettai ni ienai...
I can't tell you I like you, but then I...
だけど メルト
Dakedo Meruto!
Melt!
目も会わせられない
Me mo awaserarenai.
I can't even look you in the eye
恋に恋なんてしないわ私
Koi ni koi nante shinaiwa watashi
I won't fall for love, not me
だって 君のことが。。。好きなの
Datte kimi no koto ga... suki na no
It's just that... I really do like you


天気予報がウソをついた土砂降りの雨が降る。
Tenkiyohou ga uso wo tsuita doshaburi no ame ga furu
The weather report lied, it's pouring down
カバンに入れたままのオリタタミ傘うれしくない ためいきをついた そんなとき
Kaban ni ireta mama no oritatamigasa ureshiku nai Tameiki wo tsuita sonna toki
My umbrella still folded in my bag won't do So I gave a sigh


「しょうがないから入ってやる」なんて
"Shou ga nai kara haitte yaru" nante
"I guess I'll have to let you in"
隣にいる君が笑う
Tonari ni iru kimi ga warau
Beside me you say, laughing
恋に落ちる音がした
Koi ni ochiru oto ga shita
That was the sound that made me fall in love


メルト 息が詰まりそう
Meruto Iki ga tsumarisou
Melt! I can hardly breathe
君に触れてる右手が震える
Kimi ni fureteru migite ga furueru
My hand, touching yours, is trembling
高鳴る胸
Takanaru mune
My heart is racing
はんぶんこの傘
Hanbunko no kasa
under this half of the umbrella
手を伸ばせば届く距離
Te wo nobaseba todoku kyori
If you should stretch out your hand to close the distance
どうしよう?!
Dou shiyou?
What'll I do...?!
想いよ届け君に
Omoi yo todoke kimi ni
My feelings will reach you


お願い時間をとめてめ泣きそうなの
Onegai jikan wo tomete nakisou na no
I wish time would stop, I feel like I could cry
でも嬉しくて死んでしまうわ!
Demo ureshikute shinde shimau wa!
So happy, I feel like I could die!


メルト 駅についてしまう。。。
Meruto Eki ni tsuite shimau...
Melt! Pulling into the station
もう会えない近くて遠いよ
Mou aenai chikakute tooi yo
The end of the line for us, so near, so far
だから メルト
Dakara Meruto
Melt!
手をつないで歩きたい!
Te wo tsunaide arukitai!
I want to hold your hand in mine
もうバイバイしなくちゃいけないの?
Mou baibai shinakucha ikenai no?
Do we already have to say goodbye?
今すぐ私を抱きしめて!
Ima sugu watashi wo dakishimete
I want you to take me in your arms!
。。。なんてね
...nante ne
...You wish!
English translation from Hatsune Miku -Project DIVA- F 2nd. Missing parts from ArtemisA's translation.
Notable Derivatives
Edit
Una's cover
Featuring: Otomachi Una
Producer(s): cillia (cover), Sango312 (VSQx)
NN / YT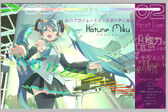 Marasy's piano cover
Producer(s): Marasy
YT
Discography
Edit
This song was featured on the following albums:
メルト
メルト 2M MIX
2008 Spring Best Song Album
初音ミクベスト ~memories~
初音ミク: Project DIVA 2nd - NONSTOP MIX COLLECTION
VOCALOID BEST from ニコニコ動画【あか】
初音ミクライブパーティ2011 39's Thanks Live in Tokyo / Sapporo
初音ミク 5thバースデー ベスト〜memories〜
HATSUNE MIKU EXPO 2014 IN INDONESIA
External Links
Edit
Community content is available under
CC-BY-SA
unless otherwise noted.