Japanese
Romaji
English
息遣いはもう雪の下
ikizukai wa mou yuki no shita
My breath was already buried under the snow,
灰色だった
haiiro datta
It was grey.
つまらない気持ちを振り避けて
tsumaranai kimochi o furiyokete
Brushing off these boring feelings,
搔き消していた
kakikeshite ita
I was drowning them out.


君のイメージはもう靄がかり
kimi no imeeji wa mou ai ga kari
The image of you is already hazy in my head,
固定された
kotei sareta
I was fixed on it.
吐き出しかけの声がいつか
hakidashi kake no koe ga itsuka
The voice that I'd started to spit out one day
喉に詰まった
nodo ni tsumatta
got stuck in my throat.


「約束だよ」「いつかそのうち」
"yakusoku da yo" "itsuka sono uchi"
"It's a promise" "One of these days"
なんてはぐらかしていた
nante hagurakashite ita
with those kinds of words, I was changing the topic.
頭の中で葬った君の音が
atama no naka de houmutta kimi no oto ga
The sound of you that I've interred inside my head
明け方眠れない僕を刺す
akegata nemurenai boku o sasu
pierces me who is unable to sleep until dawn.


取りこぼしかけた稚拙な愛が
torikoboshi kaketa chisetsu na ai ga
These artless loves that I've started losing to,
一つ一つ滲んでいって
hitotsu hitotsu nijinde itte
they blur over one by one
世界の終わりがまた欲しくなる
sekai no owari ga mata hoshiku naru
and I've grown to wish for the end of the world once again.
きっと、きっと、きっと、
kitto, kitto, kitto,
Surely, surely, surely,
殺してくれよ
koroshite kure yo
I want you to kill me.


目次もあとがきもないのに
mokuji mo atogaki mo nai no ni
Though there's no table of contents nor an afterword,
栞を取った
shiori o totta
I removed the bookmark.
心臓みたいにうごめいた
shinzou mitai ni ugomeita
The fist that I clenched
拳を取った
kobushi o totta
wriggled like a heart.


あの時僕が浮足立ったのは 君のせいだった
ano toki boku ga ukiashidatta no wa kimi no sei datta
The reason I became restless at that time was all your fault.
同じだけで何の変哲も無い日暮れだった
onaji dake de nani no hentetsu mo nai higure datta
It's just still the same, a completely ordinary sunset.


嘲笑うみたいな斜陽が
azawarau mitai na shayou ga
As if the setting sun is mocking me,
落ちぬまま差し込み続け
ochinu mama sashikomitsuzuke
it won't fall and continues to shine.
憂った僕らの顔を照らした
uretta bokura no kao o terashita
It illuminated our distressed faces.
もっと ちゃんと 焼き付けて
motto chanto yakitsukete
Burn it into memory more properly.


不完全な球になって進めなくなった
fukanzen na kyuu ni natte susumenaku natta
I become an imperfect sphere and was unable to advance.
もっと言葉がほしい うつらなままいたい
motto kotoba ga hoshii utsura na mama itai
I want more words, I want to stay hollow.
消耗しか無い今日を許せなくても
shoumou shikanai kyou o yurusenakute mo
Even if I can't forgive today that's full of nothing but exhaustion.
どうか どうか
douka douka
Please, please,
逸らさないでいて
sorasanai de ite
don't look away from me.


あとどれくらい
ato dore kurai
How many more days
日々を潰そう
hibi o tsubusou
shall we while away?
失望の振り
shitsubou no furi
Pretending to be disappointed.
何もいらない
nani mo iranai
I don't need anything.


君の言葉に
kimi no kotoba ni
Your words
僕は苛立つ
boku wa iradatsu
annoyed me.
名前を呼ばないで
namae o yobanai de
Don't call my name.
もう置いて行かないで
mou oite ikanai de
Don't leave me behind anymore.
English translation by Hiraethie, corrected by Violet
Notable Derivatives
Edit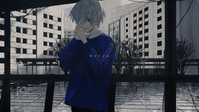 Megater Zero's cover
Featuring: Megater Zero
Producer(s): Megater Zero (encode, mix, video), ろまん西野 (mix)
NN
YT
External Links
Edit
Community content is available under
CC-BY-SA
unless otherwise noted.